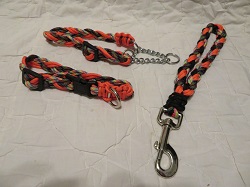 Paracord 3 Piece Sets
1"wide. The set includes an adjustable martingale collar, and adjustable buckle collar and a 12" traffic handle. The traffic handle is great for large dogs to hold them close in high traffic areas. All three are made out of mildew resistant parachute cord. They fit most greyhounds.
These collars are made by Leashes by Liz, a Colorado company located in Broomfield. Each strand of parachute cord has a tensile strength of 550 lbs, giving the collar a breaking strength upwards of 4000 lbs! Paracord is bright, mold and mildew resistant, colorful and fade resistant and they come in a wide variety of colors. A big thanks to Leashes by Liz for working with CGA to bring these beautiful collars to our store!